Mirror solutions
We at Saros Est manufacture and supply two types of mirror solutions:
mirror panels made of polished stainless steel
mirror film installed on the tracks P60, P80 and P130 with damper
These solutions can be used both as a real mirror or as a interior element integrated to a stretch ceiling.
Mirror panels made of polished stainless steel
What makes this material for mirror panels so special?
While giving a perfect reflection, steel is much stronger than an ordinary mirror. These panels are more reliable and durable;
It won't break as ordinary mirrors do, so it is safer as well;
You may clean it if needed (without using abrasive materials);
Furthermore, in comparison with mirroring film, steel is easy to install in your interior: you get a simple ready-made object;
Sizes can vary up to 1100x1100mm. And if that is too small – we can make a composite product made of several panels (see below photo to see what the seam looks like);
No image distortion
We can offer 3 options: mirror panels can be surface mounted, suspended, or integrated with your stretch ceiling
We offer our panels in rectangular shapes with sharp and rounded corners or also in round shapes. Regardless of the shape you choose, reflection stays perfect.
Integrated round panels are fixed on a frame, which can also be powder coated in a color of your choice (contact us to see the available colors). Furthermore, powder coating is included in the price!
And last but not least, PACKAGING!
While mirror PVC stretch can be easily damaged during transportation, the stainless steel mirror panels are more durable and covered with special protective film which minimizes the risk of damage in transit.
So you'll get your panels safe & sound:
covered with protective film
wrapped in air bubble film
packed in a cardboard box ( sizes up to 550 mm ) or in a plywood box
Packaging cost is calculated separately.
NEW!!!
Mirror film installed on the tracks P60, P80 and P130 with damper
We are happy to introduce you our new development: a convenient and quick way to install a mirror film using a DAMPER.
Mirror film is a very tricky material, not easy to install and fairly easy to damage when installed. We suggest using our new technology for creating mirror panels based on P60, P80, and P130 profiles using a damper.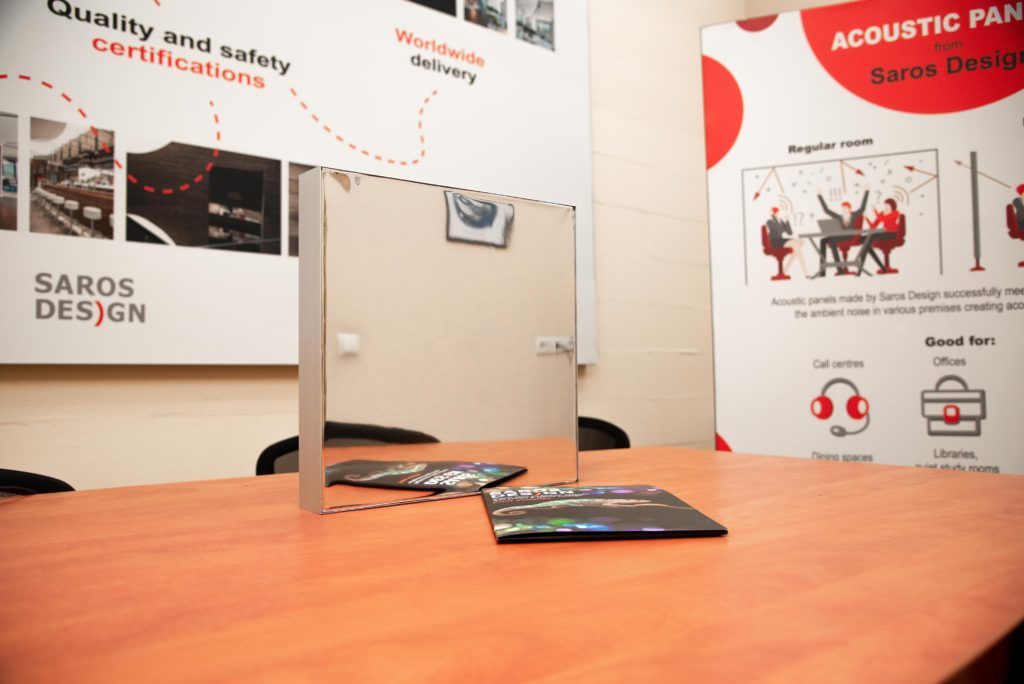 The installation process is relatively simple, does not require special skills or special equipment
No need to take accurate measurements down to every millimeter, the canvas is cut to size on the spot
Installation requires only a spatula for "cold" installation (eg Pongs) and cotton gloves
We have prepared detailed installation instructions, where we outlined all the stages and nuances of installation.
This system can also be easily used for installing fabric if the installation is one-time and the installation and dismantling of fabrics will not be needed in the future.
Take a look at the photos to see the structure, installation progress, and final result.

Mirror panels from Saros Design are a great solution for your private or public interior!