Art-ceilings
Photo print stretch ceilings and wall panels
Photo print stretch ceilings and wall panels can be a real interior design attention grabber, an essential stylistic centerpiece. This is a perfect way to add a "missing" decorative element to your interior. Art ceilings make a good example of harmonious combination of traditional ceiling paintings and state-of-the-art technologies.
Technologically speaking, an art stretch ceiling means a ceiling with a pre-selected image applied onto it using the interior design print technology. The ceiling itself can be Matt, Satin, Glossy or Translucent, white or of any colour depending on your personal preferences and the interior design style.
Current technologies (UV-printing) offer the possibility of printing images not only onto lighter shade films but also onto any colour films avoiding colour distortion of the image itself.
Stretch ceiling and wall panel art print technologies
We are happy to announce that in order to meet the increased requirements of our customers for quality, speed and functionality of large format printing, we have equipped our factory with a premium UV plotter of the new generation.
From now on, Saros Design is glad to offer you digital printing which has:
rich volumetric colors
high definition
print width up to 5 meters
high speed of printing
ability to print on all types of PVC films and textile fabrics
very FAVORABLE PRICE
NEW!!! UV-printing with SELECTIVE VARNISHING of the image.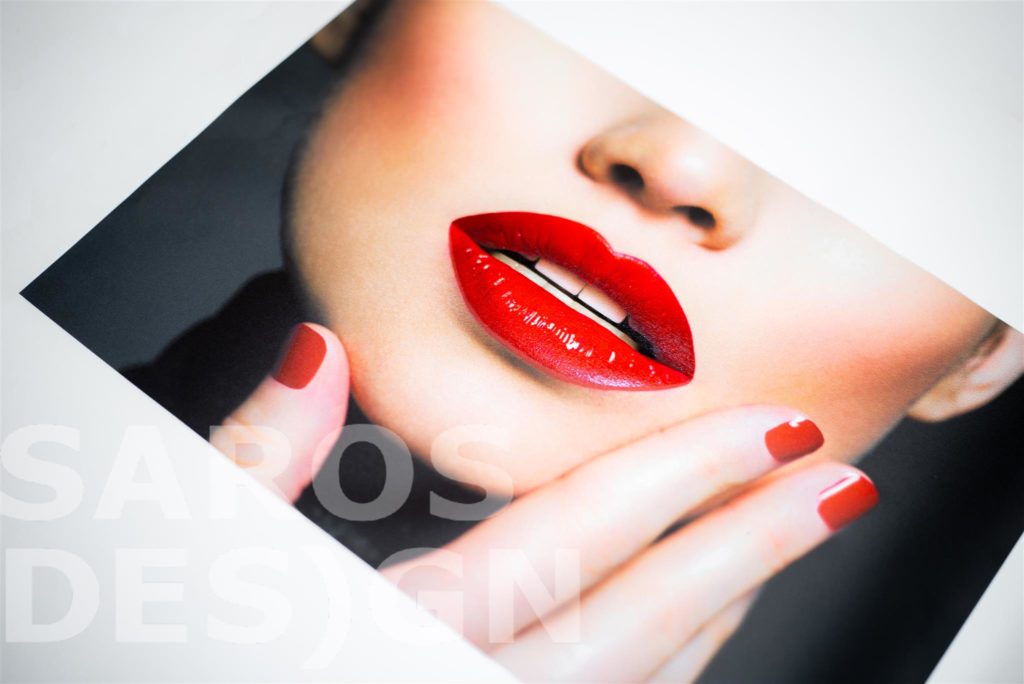 What is selective varnishing?
An element of the image of your choice is printed with an application of an additional lacquer layer. This way a lacquer element stands out from a matte sheet.
What can selective varnishing be used for?
to create more vivid and voluminous images with 3D effect
to highlight important details of the image, such as the company logo for example
to make the interior more sophisticated and elegant with lacquered details
What is important to know:
when choosing the element make sure that its area constitutes a small per cent of the sheet entire area and is not located close to the edges
maximum tension is 5%
it is important not to heat or stretch the part where varnished detail is located
You can see the high quality of our printing by ordering a FREE samples folder from our managers. The folder contains printing samples on various materials as well as our latest update, the selective varnish.
As an alternative we also have an eco solvent plotter for widths up to 3.2 m. Each of the printing methods has its own specific features.
The 3.2 m plotter can be used with lighter shade and white finishes only, whereas the 5 m one takes all finishes.
Apparently, the 5 m plotter produces seamless art ceilings for large spaces.
For printing, SAROS DESIGN uses only high quality UV and eco solvent ink completely approved for interior design printing.
Our photo print ceilings are only made to individual orders. We take all customer's requests and aesthetic preferences into account. Prior to making the final product, we strongly recommend ordering a full-colour test print, i.e. a small colour proof sample offering a complete picture of the colour intensity in general. Our customers can get two colour proofs free of charge.
Photo print stretch ceiling and wall panel photo catalogue
SAROS DESIGN offers a high quality digital printing service with any image of your choice. For instance, it can be a sweet picture of your family trip or creative logo of your company.
You can also select the desired print image from the www.shutterstock.com image library. If required, our designers can adapt an image selected to your interior design or design a tailor-made layout.
Comparison of interior printing technologies
Properties
Eco-solvent printing
UV-printing
Ink
Eco-solvent ink
UV-curable ink
Safety
Entirely certified for interior use
Entirely certified for interior use
Print width
320 cm (rolled )
500 cm (rolled)
Material
320 cm (rolled)
500 cm (rolled)
Material colour
Supports printing on white materials or lighter shade finishes
Supports printing on white and any colour finishes without any colour errors
Special considerations relating glossy finishes
Printed images shall retain the glossy condition of the material
Printed images shall always be matt
Post-printing treatment
Require drying, especially in case of glossy finishes
No drying is required, no risk of smearing
Maintenance
Dyes are highly resistant to light and moisture, do not fade with time when exposed to light, do not require any additional care compared to conventional stretch ceilings
Dyes are highly resistant to light and moisture, do not fade with time when exposed to light, do not require any additional care compared to conventional stretch ceilings