Acoustic solutions
Continuous background noise in everyday life can cause not only annoyance but also strenuous ear-straining to hear yet another noise. Psychologists claim that constant environmental noise can be very destructive for a normal emotional state triggering such conditions as neurasthenia and neurosis. Acoustic solutions Saros Design successfully meet the challenge of eliminating the intrusive noise in various premises.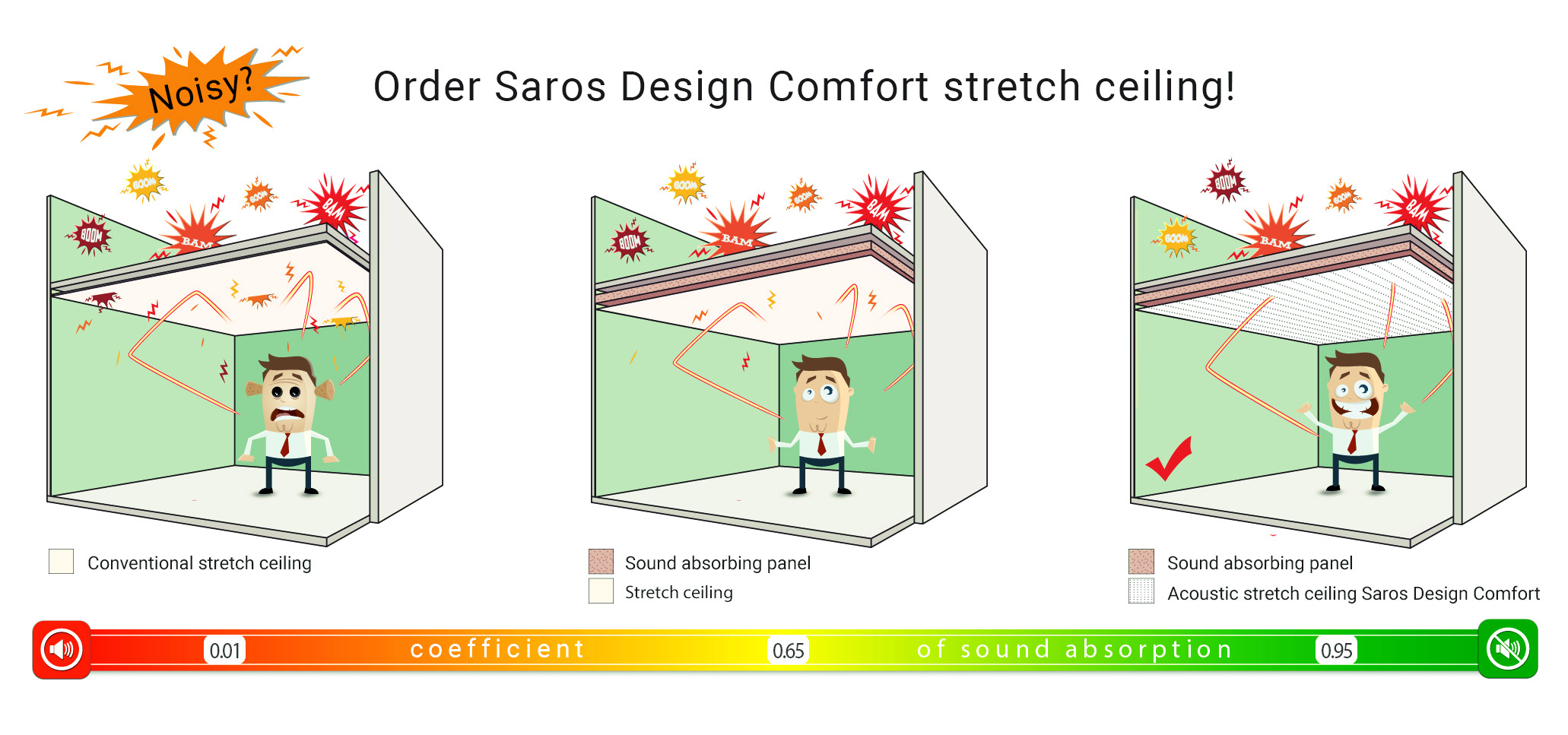 Saros Design offers different acoustic solutions for reducing environmental noise and creating comfortable acoustical conditions in a room:
Saros Design acoustic stretch ceilings/wall panels
Descor® textile acoustic ceilings/wall panels
Saros mobile acoustic panels
Saros Design acoustic stretch ceilings with micro perforation

The SAROS DESIGN acoustic stretch ceilings featuring new micro-perforated materials are easy to manufacture and make a simple way to create acoustic comfort in a room maintaining the visual appeal of the room characteristic. This acoustic stretch ceiling technology providing excellent noise absorption properties offers the possibility to save yourself from the annoying noise at minimum expense.
How does it work?
Saros Design acoustic ceiling
The sound wave from the source of sound
The transformation of the sound wave energy
into heat energy in the holes of stretch ceiling
The sound wave, which has lost a
significant part of its energy
Sound waves that emanate from a sound source located in a room are partially absorbed by micro-perforated holes in the SAROS DESIGN acoustic stretch ceiling. The air in the micro-perforations causes the obstruction of the initial sound, partially converting the sound waves into thermal energy and reducing their intensity. In addition, there is obstruction from the air between the micro-perforated panels and the back wall. As reflected sound waves continue to reverberate around the room, acoustic absorption continues and the reverberation time in the space is reduced.
Micro-perforated SAROS DESIGN stretch ceilings have been tested by Acoustical Investigation & Research Organization LTD (London), a UKAS accredited testing laboratory. According to issued Certificate No. L/3220, these ceilings (with no acoustic panel) have been assigned absorption class D.
Sometimes, in case of high noise pollution in a premise, an acoustic ceiling can be installed together with sound-proofing mineral wool plates. The sound-absorbing plates shall be attached to the load-bearing ceiling using individual tracks. This method ensures noise protection of the highest standard. Using both sound-absorbing materials and acoustic stretch ceilings at the same time improves the ceiling sound absorption class (up to the class A – maximum absorption).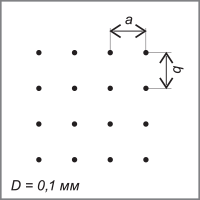 diameter of the hole = 0.1 mm
distance between the holes a=b=2 mm
number of holes in 1 square meter = 250000
film thickness 0.17 mm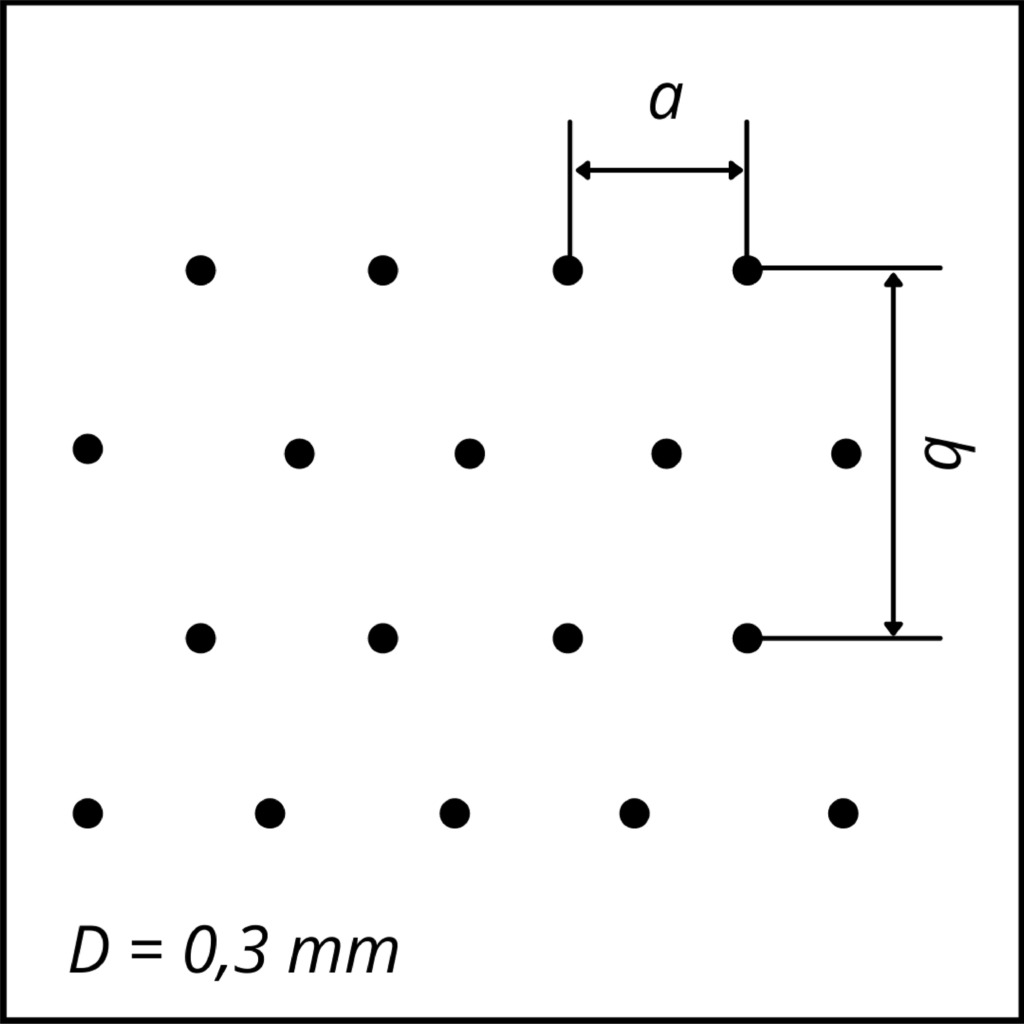 diameter of the hole = 0.3 mm
distance between the holes a=2 mm, b=4 mm
number of holes in 1 square meter = 250000
film thickness 0.17 mm
Descor® textile acoustic ceilings/wall panels
As alternative to micro-perforated stretch ceilings Saros Design offer the acoustic solutions manufactured from Descor® acoustic textile.
Descor® textile is a first-class fabric produced exclusively in Germany. The products are high quality, durable, environmentally friendly which is confirmed by numerous certificates. Company Saros Est is proud to be an official distributor of PONGS® Group, a producer of amazing Descor® textile.
Create acoustic comfort in a room with Descor® PREMIUM Acoustic fabric. To achieve the best result, we recommend installing Descor® PREMIUM Acoustic fabric together with acoustic panels ISOVER SSP2. The combination of fabric and panels provides sound absorption class A.
Furthermore, to create a unique interior design of your space we at Saros can offer printed acoustic solutions with any image of your choice (company logo, promotional images, family pictures, etc.)
Saros mobile acoustic panels
In the rooms with conventional ceilings and walls Saros company offers an alternative acoustic solution: special MOBILE acoustic panel.
What is Saros mobile acoustic panel?
Easy-to-use mobile acoustic panel is manufactured in accordance with the requirements of acoustical class A certificate.
Design:
Frame: aluminum, powder coating in any color from the standard color range;
Acoustic elements: two Descor® acoustic textiles (white/black/UV printed with any picture/company logo) and acoustic wool in between the fabrics. Textile walls are easily replaceable;
Standard size: 126х181 cm (structures with other dimensions can be manufactured on request);
Available with wheels or on legs;
By default, the panels are supplied unassembled on the pallet.
Application areas:
Offices, call-centers, shops, home theaters, rest rooms, beauty salons, meeting rooms, etc.